Harnessing Gas -
The Shell Petroleum Development Company of Nigeria Limited (SPDC) is committed to stop flaring gas. The following briefing document explains why flaring is happening in Nigeria and what the company is doing to harness and conserve the gas.
Introduction
Why Gas is Flared
Developing New Markets
Backing out Non-Associated Gas Supplies
The Environment
Flaring and Health
The Way Forward

Nigeria produces almost two million barrels of oil a day from its oil fields in the Niger Delta area. Most of the oil comes from reservoirs containing gas, which is produced with the oil. This associated gas is separated from the oil at flowstations and more than 95 per cent of it is flared – currently a total of some two billion standard cubic feet per day (scf/d), which is estimated to be about a quarter of the gas the world flares and vents.
The energy available from Nigeria's flared gas is prodigious, equivalent to one quarter of France's gas requirements. The company recognises that flaring wastes a valuable resource and is environmentally damaging. It aims to stop unnecessary flaring as soon as possible through a series of projects to harness or conserve this gas.
Several gas gathering and conservation projects are already underway in response to emerging markets while other plans await new markets.
The company is committed to reduce gas flaring as soon as is feasible to the minimum needed to maintain safe operations. But why are solutions being found only now? Why has Nigeria been flaring gas for so long? These questions lie at the crux of the debate about Nigeria and gas flaring and the answers, which continue to have a major impact on associated gas development today, are rooted in history, economics and geography.
Flaring profile
This is how SPDC's plans to harness associated gas will reduce flaring at its facilities through to the next millennium. It is however actively pursing ways to achieve the minimum flaring levels earlier.
SPDC's Gas Flares
About half the gas flared in Nigeria is produced by the Shell Petroleum Development Company of Nigeria Limited (SPDC) in the course of providing half the country's oil exports. The company has more than 90 oil and gas fields spread over some 30,000 square kilometres of oil mining leases in the Niger Delta. It is a massive operation involving a network of more than 6,000 kilometres of flowlines and pipelines, seven gas plants, 86 flowstations, and other facilities.
Most of Nigeria's oil facilities were built in the 1960s and 1970s. In those days, gas was not a popular energy source as it was more difficult to produce and transport than crude oil, on which many of the world's economies were based. There were few markets for gas in Nigeria and at the same time there was little environmental awareness of the consequences of gas flaring.
Little was done to find or develop gas reserves and no facilities built to collect the associated gas, which was - and remains - one of the most difficult and expensive gas sources to harness. It is produced at low pressure and has to be compressed and treated in purpose-built facilities before it can be used. In addition, individual fields do not produce enough associated gas to be economic on their own so an expensive network of compression facilities and pipelines is needed to link these scattered fields to collect enough gas for a typical industry.
Therefore, it is not surprising that when the first small volumes of gas started flowing to Nigerian industry in the 1960s they were from gas reservoirs, a cheaper and more reliable source because they are produced at high pressure and do not depend on oil production.
However, simply substituting gas from the flares for these small commercial volumes of non-associated gas cannot solve Nigeria's flaring problem. Today's commercial demand for gas in Nigeria is just 330 million scf/d, many times smaller than the large volumes of associated gas being flared.
Until now the best options to conserve or harness this flared gas have been reinjection into oil reservoirs underground, or export. SPDC was the first company to reinject gas (at Oguta in 1978) but most reservoirs are unsuitable for large-scale reinjection.
Nigeria's physical isolation from the major international gas markets of Europe ruled out a gas export pipeline, leaving the technologically more complex and more expensive option of liquefying and shipping gas. The country's first plans for a liquefied natural gas plant date back more than 30 years and several schemes failed for various reasons until 1995 when the partners of the Nigeria LNG project decided to go-ahead. SPDC will supply more than half the gas for this project which forms the backbone of the company's drive to eliminate unnecessary flaring.
Limiting Factors
But LNG is only part of the answer. Though SPDC also plans to replace its non-associated gas supply with associated gas, any successful programme to end gas flaring in Nigeria depends on creating new markets.
The key to achieving this lies with industry, which alone can harness the sort of volumes required. Although many industries are connected to gas pipelines the only user of large volumes of gas so far is the National Electric Power Authority (NEPA) which uses it to drive its power stations in the south, close to the gas fields. Power stations in the north of the country generate hydro-electric power.
Several new projects that will use associated gas are being planned. They include a steel plant at Ajaokuta, which has been many years in development, and an aluminium smelter plant (ALSCON) in Akwa Ibom which started in 1996. But these are not enough. There remains a need for more gas-based industrial development.
For that to happen, consumers need incentives to use gas rather than other energy sources, and suppliers need incentives to build expensive gas gathering, compression and treatment systems.
Harnessing flared gas has to be an economic proposition. The price has to be right for the consumer and the supplier to allow investment to develop and maintain facilities. To achieve this, allowances have to be made in fiscal and gas pricing policies and in operating agreements.
At current gas prices, which are pegged by the government, associated gas development is not viable. The price does not cover the current costs of maintaining facilities to modern-day standards, let alone providing money for new projects.
This has limited the development of the gas pipeline network and spending on existing gas collection and processing facilities.
SPDC will include gas collection facilities for the new fields it develops, for example in its new South Forcados development, which is being brought on stream over the next five years. But that still leaves most of the company's existing fields without gas gathering facilities, some 21 of which have significant volumes of flared gas.
Gas for Industry
SPDC supplies 95 per cent of the commercial gas in Nigeria - most of it non-associated gas.
The company's seven gas plants at Utorogu, Oben, Alakiri, Ughelli East, Sapele, Obigbo North, and Afam supply gas mostly to the Nigerian Gas Company which has gas pipeline networks linked to industry and power stations in the Greater Lagos Area, Delta and Rivers states. SPDC also supplies gas direct to Afam Power Station in Rivers State, and Delta Power Station, in Delta State.
Gas Plans
Despite all these problems, already major strides are being made by SPDC to harness its associated gas from these fields.
In some cases gas gathering projects are already underway in response to emerging markets but other plans await new markets. SPDC is now using associated gas as an energy source for its own facilities, though the company's energy demand is small.
The company is conserving gas where possible. It is reinjecting gas and plans to do more where technically possible, and is selectively closing in oil wells which produce a high proportion of gas.
It is committed to reduce gas flaring as soon as is feasible to the minimum needed to maintain safe operations through:
• Developing new local and international markets.
• Backing out non-associated gas supplies with gas currently being flared.
• Accelerating where possible the reinjection of flared gas.
The Liquefied Natural Gas Project
SPDC is committed to supply 450 million scf/d of gas to Nigeria LNG Limited's (NLNG) liquefied natural gas plant now being built at Finima, near Bonny. NLNG, in which Shell has a 25.6 per cent stake, started constructing the plant in early 1996 and will begin exporting more than five million tonnes of LNG a year to customers in Europe from 1999.
SPDC's gas supply represents more than half the plant's requirement of feed gas, the rest being supplied by Elf and Agip.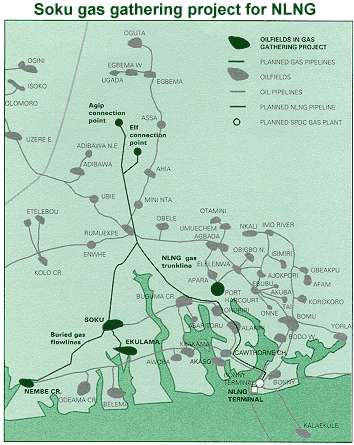 Initially, some 200 million scf/d - more than 40 per cent - of the company's supply, will be associated gas. However, further developments will increase the proportion of associated gas in this supply.
As well, if plans to expand the LNG plant in the future are realised, there will be further opportunity to increase the level of associated gas supplies.
SPDC's initial supply to NLNG will come from Soku in Rivers State where work has started on a new gas plant which will collect, compress and treat associated and non-associated gas from Soku, and associated gas from the Ekulama and Nembe Creek oil fields. Some 20 new oil and eight gas wells will be drilled at Soku.
An Environmental Impact Assessment has been completed for the project.
To minimise environmental impact, the new wells at Soku will be drilled in two clusters to reduce land use and disruption of the swamp habitat. Nearly all of them will be drilled from existing drilling locations, which also reduces land take. All will be horizontal wells which cut down the number of wells that would normally have to be drilled, another major factor in minimising land requirements.
Aluminium Smelter Company (ALSCON)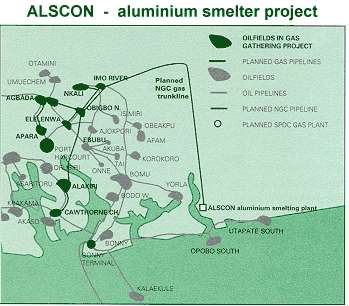 SPDC will be supplying 100 million scf/d of gas as fuel for a new aluminium smelting plant now being built at Ikot Abasi in Akwa Ibom state. The company is now designing new facilities at its gas plants at Alakiri and Obigbo North to collect, treat and compress associated gas currently being flared at more than 10 fields (see map right).
Initially ALSCON will be supplied with non-associated gas from the existing Alakiri and Obigbo North gas plants until the project is ready to deliver associated gas in the year 1999. The Nigerian Gas Company is building the pipeline to Ikot Abasi.
Methanol plant
Standard Petrochemicals Industries Limited is planning a methanol plant in Port Harcourt which will require some 55 million scf/d of associated gas from SPDC. The project start date is still to be finalised but it is expected to start operations in 2001.
Current uses for associated gas
In 1995 SPDC produced 1,060 million scf/d of associated gas of which 50 million scf/d was used and the rest was flared.
The company currently uses associated gas to power its 86 flowstations and it also supplies gas to 13 industries in the Trans-Amadi industrial area of Port Harcourt, six industries in Aba and to Agip's Port Harcourt base at Rumueme.
In a link up with a rural electrification scheme financed by World Bank in 1987, associated gas from the company's Kolo Creek flowstation was delivered to a power station at Kolo Creek, run by the Rivers State Electricity Board. It was to deliver electricity to 86 villages. The scheme was taken over by the Oil Minerals Producing Areas Development Commission (OMPADEC) in 1994 and the company supplied 1.3 million scf/d of gas in 1995.
In addition, some 40 million scf/d is reinjected back into an oil reservoir at Oguta.
BACKING OUT NON-ASSOCIATED GAS SUPPLIES

Four projects are being planned to collect associated gas for the Nigerian Gas Company's Escravos-Lagos pipeline system supplying power stations and industry in the greater Lagos area and Delta State. These projects at Odidi, South Forcados, Escravos and the Greater Ughelli area in Delta State will gradually phase out SPDC's current supply commitment now being met with non-associated gas. But they will do more than that. They will make available more gas than is currently supplied by SPDC. This gas will be available for domestic or industrial consumers, but markets still have to be developed.
(Click on the areas on the left for a larger picture)
Odidi area plans involve a new gas plant for the Odidi field taking gas from the flares of the Egwa, Batan and Odidi fields. It will supply initially some 80 million scf/d when it comes on stream in mid-1999, with potential to rise to 160 million scf/d. An Environmental Impact Assessment has been completed for the project and construction is due to start this year.
The Escravos area is expected to collect 80 million scf/d of associated gas from the oil fields of Escravos Beach, Forcados North Bank, Opuama, Otumara, Saghara, and Yokri. A gas processing plant is planned for the Escravos Beach flowstation which will be supplying gas by 2003.
Another 200 million scf/d of associated gas will be harnessed in a gas gathering scheme in the South Forcados area that will be built in parallel with a new oil field development at Tunu/Kanbo, Ogbotobo, and Odon. Associated gas will be collected from these new fields and two existing fields, Opukushi and Benisede, and piped to a new gas plant at Tunu. It is planned to be on stream by 2000.
A gathering scheme involving the Greater Ughelli oil fields of Afiesere, Kokori, Uzere, Utorogu, Ogini, Evwreni, Eriemu, Oweh and Olomoro is expected to come on stream in 2002 supplying 80 million scf/d to the Delta Power Station and other industry in Delta State. Excess production is planned to go into the Nigerian Gas Company's pipeline. A new gas treatment plant will be built at Eriemu flowstation
Other projects will gather associated gas to replace other current non-associated gas commitments and provide potential to supply more gas in the future:
At Sapele, Delta State, where SPDC already has a gas plant supplying non- associated gas to NEPA's Sapele power station, there are plans to harness associated gas from the Sapele, Oben and Amukpe oil fields to a new flowstation and gas treatment plant planned for Gbetiokun. Work will start on the project in 1999 and it is expected to supply the power station with 60 million scf/d by 2004.
In Rivers State, the non-associated gas supply from SPDC's Afam gas plant to NEPA's Afam power station, will be replaced by associated gas in 2003. This associated gas will come from Ubie, Nembe Creek and other nearby oil fields.
The current non-associated gas supply of 55 million scf/d by SPDC to the National Fertiliser Company of Nigeria (NAFCON) at Onne, Port Harcourt, is expected to be replaced by associated gas in 2007. The associated gas will be collected from Buguma Creek, Krakama, Diebu Creek and other nearby fields. By 2005, an extension planned for NAFCON is expected to require another 55 million scf/d of gas. Associated gas from Utapate, Yorla and Opobo South fields will meet this extra demand.
In addition SPDC is converting its own power requirements to associated gas where ever possible, replacing non-associated gas and other types of fuel. SPDC's industrial and residential areas in Port Harcourt will be supplied with associated gas in 1999 from the Apara and Obigbo areas. In 2003, Warri's residential and industrial areas will have an associated gas supply which will fuel the company's Edjeba central power plant. Excess gas, which will be from the Warri River and Rapele oil fields, will go to the Warri Refinery and Petrochemical Company.
Both the company's oil terminals, Forcados and Bonny, will be fuelled by associated gas from 2000. At times of low demand, excess gas will go into the Nigerian Gas Company's pipelines.
Reservoir suitable for gas reinjection
Conditions are favourable for reinjection in relatively large light oil reservoirs with long distances between the top and the bottom of the oil bearing part. In these cases reservoir pressures would show significant reduction following oil production. The pressure can then be maintained with the reinjected gas which at the same time helps drive oil to the producing wells improving production. Often in this sort of reservoir the oil is overlaid with a gas cap. Examples occur in Oguta and Cawthorne Channel fields in Rivers State.
Typical reservoir
Most of SPDC's reservoirs are like this - in relatively small structures that are often heavily faulted. The large majority of them do not show much reduction in pressure when oil is extracted. This means that scope for replacing the produced oil with reinjected gas is limited and in many cases could reduce the amount of oil that can be recovered from the field.
Conserving Gas
SPDC plans to increase the volume of associated gas it reinjects into oil reservoirs. In the Oguta field, where reinjection has been going on for 18 years, it is planned to increase the volume going back into the reservoir from 40 million scf/d to 80 million scf/d by 2002. In addition, reinjection plans are underway for other fields starting with Belema in 1999, Cawthorne Channel/Akaso in 2003, and Gbaran in 2006. It is expected this will conserve another 220 million scf/d of associated gas.
Technical reasons related to the geology and distribution of oil in typical Nigerian reservoirs limits the widespread use of reinjection (see above).
Oil production from wells with a high ratio of gas to oil (GOR) is being either reduced or shut in to reduce flaring. In 1995 some 20,000 barrels a day of oil was shut in to cut flaring by as much as 75 million scf/d. Plans in 1996 are to improve the monitoring of wells with the aim of shutting in more high GOR wells.
Gas flaring has been blamed for causing acid rain in the Niger Delta. It is unlikely that oil industry flaring is a major contributor to acid rain as the gas is very low in sulphur, one of the main components of acid rain.
A more intrusive consequence of flaring is soot from smoky flares. Flares generally burn clean and they become smoky only if oil gets into the flare pipeline through an operating malfunction.
A major programme to bring all the company's flowstations up to modern standards reached halfway at the end of 1995 and will be completed in 1999.
Following a review of flare systems in 1995, work started on installing a vessel in the flare pipeline of Kokori flowstation to catch any oil carried over into the line before it reaches the flare. This pilot project is due to be commissioned in 1996 and will be repeated at other flowstations if successful.
More efficient flare tips have been fitted to 11 flares. A study at Kokori flowstation showed that the tips significantly reduced the level of suspended particulates, including soot.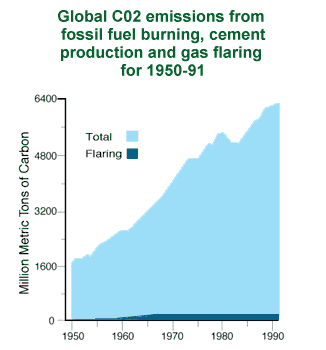 Burning gas for any reason, including for industrial and home use, produces carbon dioxide which has been identified as a 'greenhouse gas' and may be a major contributor to potential global warming, the effects of which are poorly understood and disputed among scientists. Carbon dioxide in the Earth's atmosphere is known to be rising due to human activities. The World Bank estimates that gas flaring in the Niger Delta releases some 35 million tonnes of carbon dioxide annually to the air. About half of this is released by SPDC.
Large as the above figure may seem, in the context of overall 'greenhouse' gas emissions, flared gas is not a major contributor, taken either globally or within the African continent as a whole.
Nevertheless, and even though actual global warming from 'greenhouse gas' emissions is not proved, Shell worldwide is committed to reducing emissions potentially connected with global warming. In the meantime, flaring is a better option than venting because unburned methane, the main component of Nigeria's associated gas, has much higher impact as a greenhouse gas than carbon dioxide.
Organisation
More focus was brought to bear on the gas business within the company in 1995 with a reorganisation following a business process analysis. The new post of General Manager Gas was created to oversee the entire process, reporting to the Managing Director. Gas Managers were appointed in both the company's operating divisions reporting to the divisional General Managers.
The new organisation will be driven by the company's Gas Master Plan with its twin objectives to eliminate flaring and develop the company's gas business.
Gas reserves
SPDC's Oil Mining Lease Areas hold almost half the country's proven gas reserves of 106 trillion standard cubic feet, the equivalent in oil terms to 18 billion barrels of oil. This is higher than current proven reserves of crude oil in the country.
Gas flaring has been blamed for asthma, bronchitis, skin problems and breathing problems in delta communities.
There is no doubt that respiratory problems are common in Nigeria, including the Niger Delta, but there is no evidence to support a connection with gas flaring.
World Health Organisation (WHO) data shows that respiratory infections are among the leading causes of illness in the world and linked to poverty and a lack of clean water, sanitation, drugs and treatment. In Nigeria only 30 per cent of the rural population has access to safe water and adequate sanitation and the standard of health care is dropping with a substantial reduction in immunisation of children, one of the primary methods of reducing infant mortality and illness. In 1990, in Delta State 80 per cent of children were immunised, dropping to 40 per cent in 1993. The trend was similar in Rivers State, where 85 per cent of children were immunised in 1989, dropping to 15 per cent in 1991.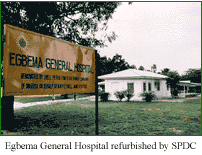 These disturbing statistics are one reason why SPDC has launched a healthcare initiative building community hospitals in its area of operations, taking responsibility for maintenance of the facilities, incentives for staff and the supply of drugs. Six such hospitals were opened in 1995 and another seven are scheduled to open in 1996. In addition a major part of the company's community effort has been to provide potable water to communities by drilling boreholes and installing overhead tanks and distribution systems. Since 1986 more than 140 have been completed - 36 of them in 1995 (more information on the company's community projects are available in the briefing note, Community Development).
The World Bank report, Defining an Environmental Development Strategy for the Niger Delta, reports that gas flaring is of low environmental and health significance to the Niger Delta. Any negative effects are confined to the immediate vicinity of the flare and will have little or no impact on the health of local populations.
Nevertheless complaints and the concerns of communities are taken seriously. The independent Niger Delta Environmental Survey, launched by SPDC in 1995 and funded by the Nigerian oil industry, is expected to look at flaring in the Delta and will address concerns about air quality and soil and water contamination with reference to international standards.
Plans are now in place for SPDC to eliminate all unnecessary flaring as soon as possible. But a firm deadline cannot be set in every case. Work is underway on many projects and markets are available to move a long way towards this objective. But success still depends on developing more markets to harness the gas that SPDC can collect. This is a limiting factor which SPDC is working hard to resolve. Also, government funding of its share in the joint venture costs of this programme must be available if the projects are to be completed on time.
Markets must be encouraged through fiscal incentives and helpful pricing policies if they are to emerge and create an environment for Nigeria to take full advantage of its enormous gas reserves and end wasteful flaring.