Hybrid Pickup, aka, Mulch Mobile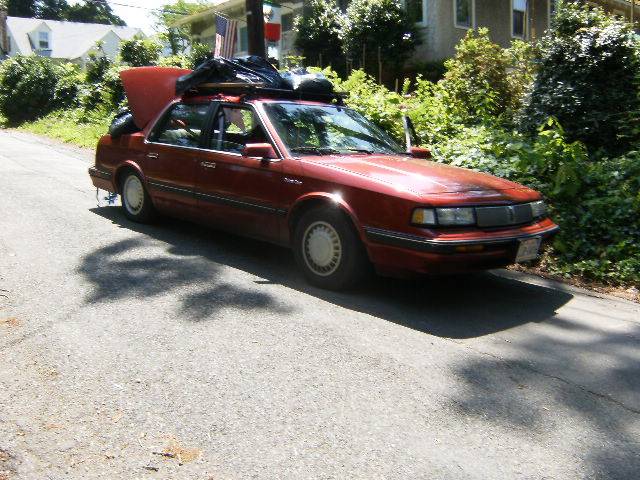 I like the monthly payments and insurance payments for a car that was paid for a long time ago. Sure, it gets some stares. Sure, I have neighbors tell me I should get a real pickup. And, I sure get a lot of laffs when at the lumber yards I ask, "What do you think of my hybrid pickup?" And, the CO2 sinning of one vehicle is half that of two vehicles.
Happily, the mulch mobile is passe because tree cutters will dump chips for free, especially if you reward with some veggies from the garden at the peak of the season. Even less CO2-sinning than the retired mulch mobile.
---
Quality Control Tools for Higher iCube ... Frog Leaping.
---
'Links To': Pages linked to by this page: ( (IndexDir ... Refs General ... !RefsRvu ... !Dir.nts) InfoLinks (05-22-2015@07:28) IndexAD1.bas:LinkLstToTable
Link Label on this page
Uploaded
Webpage Title of Link file
(A) No Incomplete Links:
(B) No HTTP:// Links:
(C) No Dated Links: Annotated References: HTB
(D) No Templates:
(E) No Internal Links, Absolute (non-dated):
(F) Internal Links, Relative (non-dated and ignore lifehour credit links):
>
#1 CaveGarden Homepage
130501
Cave Gardens: Lazy Man's High Yield Gardening
(G) No Current Directory Links
'Links From' Pages linking to this page: ( )No IndexDir ... Refs General ... !RefsRvu ... !Dir.nts) InfoLinks (05-22-2015@07:28) Linkstat:LinksFrom2Table
| | | | |
| --- | --- | --- | --- |
| | Link In From | Uploaded | Webpage Title of Link In file |
| < | #1 CheepCheep | 130501 | Baby Chicken Liv'n: Cheap, Cheap, Cheap |
| < | #2 TocIndex | 130407 | Table of Contents |
| < | #3 TillerMania | 130501 | Tiller Mania |

Created by Linkstat.bas\Program
CMD:G: BBS
05-22-2015 @ 07:32:35
(Len=7194)