Seed Plucking Tray and Process
At a seeding bee, participants will go down a line of seed cups in "plucker trays" with alphanumeric code corresponding to the seed order sheet. A person plucks the seeds that one has ordered. An honor system request only the seeds that they have ordered--no "two-fers."
As a rule, small seeds about the size of a pin-head are buried 1/4" inch deep while seeds the size of your pinky thumbnail are buried one inch deep. A pencil or pen is a convenient seeding device with the point creating the 1/4" hole and the blunt end creating the 1" hole.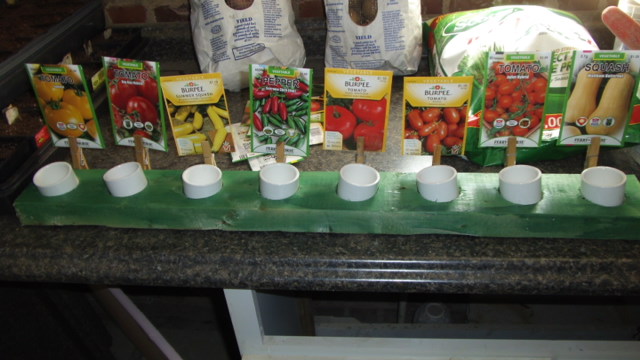 ---
Quality Control Tools for Higher iCube ... Frog Leaping.
---
'Links To': Pages linked to by this page: ( (IndexDir ... Refs General ... !RefsRvu ... !Dir.nts) InfoLinks (05-22-2015@07:28) IndexAD1.bas:LinkLstToTable
Link Label on this page
Uploaded
Webpage Title of Link file
(A) No Incomplete Links:
(B) No HTTP:// Links:
(C) No Dated Links: Annotated References: HTB
(D) No Templates:
(E) No Internal Links, Absolute (non-dated):
(F) No Internal Links, Relative (non-dated and ignore lifehour credit links):
(G) No Current Directory Links
'Links From' Pages linking to this page: ( )No IndexDir ... Refs General ... !RefsRvu ... !Dir.nts) InfoLinks (05-22-2015@07:28) Linkstat:LinksFrom2Table


Created by Linkstat.bas\Program
CMD:G: BBS
05-22-2015 @ 07:32:35
(Len=7296)