The world's largest oil rig has sunk off the northeastern coast of Brazil due to unexplained explosions that blasted through the platform, killing 10 workers. The 40-story platform has sunk slowly over the past 4 days and is reported to be resting on the sea bed, but so far the 9,500 barrels (1.5 million litres) of oil on board have largely been contained.
Experts from the rig owner, Brazilian state oil company Petrobras, aided by volunteers, are desperately trying to prevent a major oil spill into the Atlantic. As the platform sank some 80 miles offshore, there are hopes that no slick will reach land, but the location is making the clean-up difficult. A significant spill could pollute the surrounding environment and may endanger marine and bird species.
Click on any of the following images for a larger picture.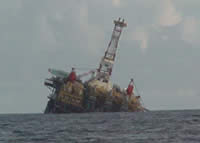 15 March 2001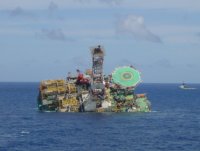 Morning of 20 March 2001. The folllowing images show the final few minutes of the rig before it finally slipped beneath the waves.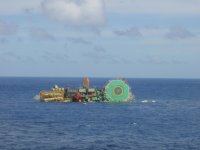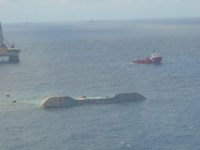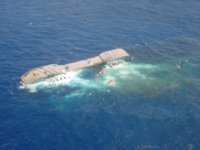 Debris and life rafts are visible as the rig sinks.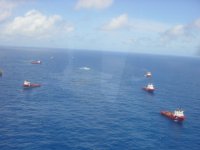 The clear up operation.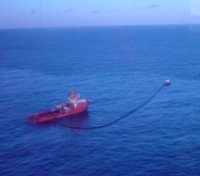 A J sweep recovery of spilt oil.
Links:
BBC Online
Planet Ark (& update)
Lycos Environment News