1998+ U.S. Southeast/East Coast Drought

The Southeastern part of the U.S. is upwind from the Gulf of Mexico where the number of deep water oil wells is increasing almost 50% in one year. Primary wind patterns are the Westerly Trade Winds. The Easterly Trade Winds come diagonally off the equator. The wind shift in the Gulf is why hurricanes come from the coast of Africa and eventually reverse course to the east once they enter the lattitudes of the the Westerlies. This explains the U-turns of hurricanes in the Gulf of Mexico (Map 2). With or without hurricanes to show the U-turns of winds over the Gulf of Mexico, the droughts of Southeastern United States show the drought impact from the oil wells in the Gulf.

A good example of the wind reversal at this latitude was the first Hurricane of 2001: Allison. Allison came ashore in a northwesterly direction onto Texas before reversing direction and heading northeast dumping deluges on each state in its path. As explained in Torrential Downpours, the CO2 responsible for the droughts soaks up the water in its path until reaches a "discharge" capacity/capacitance and then all hell breaks lose. More water is present than would otherwise be present.

In the middle map, #2, pay particular attention to the Red C in the middle: Over the Gulf offshore wells onto the US Southeast.
| | | |
| --- | --- | --- |
| 1. Oil Lease Areas in Gulf of Mexico | 2. Hurricane Tracks (1985) | 3. Year 2000 Southeast Drought |
| | | |
For actual satellite images of wind and cloud movement over hours or days
click Prevailing Winds.
Description of Drought
"Florida Drought Scares Officials" article
"EPD Says Drought [4th year] May Continue in Southwest Georgia article.
Upwind Oil Field Development:
The following chart from the Dept of Interior, Minerals Management Service of Gulf Of Mexico (GOM) Offshore Continental Shelf (OCS) production shows graphically the rise in GOM oil production.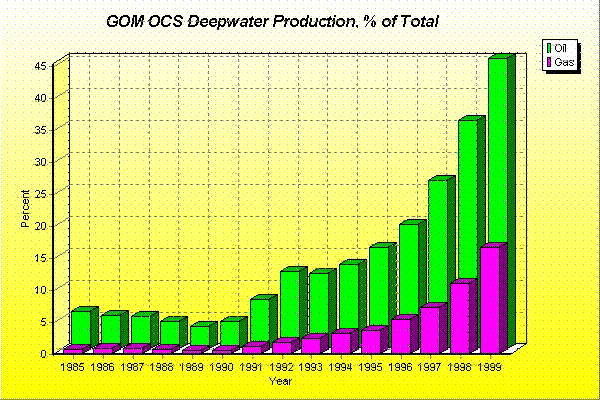 Gulf of Mexico deepwater oil production surging (October,1999 article)

"Once considered a distant frontier by U.S. exploration and production companies, the deepwater sector of the Gulf of Mexico has become the industry's most active bit of real estate, thanks to improving technology."
"Production in the region has increased 279 % in the past five years, and 47% between 1997 and 1998."
"This level of deepwater oil and gas activity illustrates the tremendous level of industry interest in the deepwater portion of the Gulf of Mexico. Last year began with 26 rigs working in deepwater, but that number continued to rise. By the end of the year, there were a record 40 rigs drilling in the deep waters of the Gulf. Now, just four months into 2001, a new record has been set ... Production from these deepwater wells has now surpassed production in shallow water, despite the fact that only four percent of all producing fields in the Gulf of Mexico are in deepwater."

"Deepwater: A New Frontier for Resource Management", MMS 2000-05-18

Today there are approximately 7600 active leases in the Gulf of Mexico, 48 percent of which are in deepwater. Contrast this to 5600 active leases in 1992, only 27 percent of which were in deep water regions. By the end of 1999, there were 30 producing fields, up 30 percent in 12 months.
For the first time in history, the amount of oil production in the Gulf of Mexico from deepwater rose above 50 percent of the total.
In 1990 about four percent of the oil and less than one percent of the natural gas produced on the Gulf's outer continental shelf was from deepwater. By the end of 1999, more than 50 percent of the Gulf's oil production and 20 percent of its natural gas was from that area. This represents a 2,800 percent increase in oil produced from those depths during the 1990's and a 3,500 percent increase in natural gas production from deepwater.

Save the whales? Hell! Save me! Concern is expressed about deep-water rigs affecting whales.
The Shit-Kicker: Minerals Management Service.
| | |
| --- | --- |
| Map 1: Old and New Fields: Western and Central Gulf of Mexico | Map 2: New leases in Eastern Gulf of Mexico |
| | |
Old shallow wells versus new deepwater well:
Close-to-shore wells allowed easy commercial transportation of natural gas.

Distant deepwater wells have transportation problems for both oil and gas according to the Mineral Management Service.

For oil, "shuttle tankers" would be needed to transport oil to shore.
"Major deepwater gas discoveries that occur more than 70 miles from infrastructure could remain undeveloped because of the technical and economic challenges."--

The July 2001 Lease sale by the Bush (below right) involves deepwater wells more than twice the distance that Mineral Management Service states as a technically feasible. Oil will be shuttled. Gas will be flared.
C02 plumes from flared gas travel for 1000's of miles, acting like a vacuum sucking up water from the land and air over which they travel.
Deepwater wells produce oil and gas produce at a rate 100 times the average oil well.
Publicly, the Mineral Management Service says it is against flaring but policies and practices allow unrestricted flaring, especially if the associated gas is economically uncommercial--too far from shore to underwrite the cost of a pipeline.
The Florida's environmentalists, legislators, and tourists have a false victory in thinking "out-of-sight, out-of-mind." With a more generic molecule than DDT, "Silent Springs" and "Silent Cash drawers" will on people's minds.

| | |
| --- | --- |
| Current offshore oil activity in the Gulf of Mexico. | Bush Administration's July 2, 2001, expansion of gulf oil fields |
| ' | |
Terminating Factor:
None in sight:

Existing, older fields are being expanded with new, deeper water wells out in the Gulf--Map 1 above.
More drilling and platforms expected--see below deep water leases in eastern Gulf of Mexico, Map 2 above.
"The Gulf of Mexico already produces about one-fifth of all the oil and one-fourth of all the natural gas produced in the U.S. Those ratios will rise sharply as new, deep water wells are brought on line."[writer's emphasis] Plunket
Minerals Management Service is to Oil Companies what universities are to professional sports: "Flaring oilfield gas for up to 1 year may be permitted for economic reasons,with justification, if there is an approved plan of action to eliminate the flare." OTC8768

Bush Administration wants to increase drilling--Both Bush, Cheney and other administration members have a financial stake in Gulf of Mexico oil. (Florida is getting payback for how it stole the election for the Governor's brother. If we could just funnel the drought and fires to SCOTUS .)
For the US to maintain its current level of oil production, 50% of which comes from the Gulf of Mexico, the people of Florida, Georgia, Alabama and South Carolina must be willing to suffer a declining standard of living so that the rest of the US can have our oil-dependent lifestyles ... for a little while longer.
As the East African drought disappeared for the duration of the OPEC embargo in the early 1970's, so would the East Coast drought disappear if they shut off the GOM wells. Choice is simple: Water or Death.
Additional understanding of the GOM wells and CO2 can be read at the webpage on changes in Hurricane behavior from global CO2 and local CO2 bubbles(blastomas).
---
---
Additional Information:
010705 "Florida's Oil Revolt"
010718 "Water wars brew in Southeast"
No one expected it to become such a critical resource so fast in a region long thought to have an inexhaustible supply.
010722 "Wildfire in northwest Florida grows again"
010827 "Tampa's dry August may set a record"
Florida's drought, heading into its fourth year, is on course to produce one of the driest Augusts on record in the Tampa region.
011120 "Thirty-six rainless days pour on the problems"
Richmond has apparently set a record for the longest run of rainless days in more than a century of official weather history.
011129 "Warm weather chills holiday spirit"
020120 "Drought on East Coast Raises Worries of Water Rationing"
Water experts who have pored over records for precedents for the current situation are using words like "wild" and "scary."
020228 "Arid, Arid, All Around, And Nature's Out of Sync"
It may still be winter and the start of nature's high water demand still weeks away, but the drought that has now marched locally through three seasons is posting ever more dire warnings throughout the mid-Atlantic ecosystem.
020315 "Drought Leaves Maine Stoic but Struggling"
They flush their toilets once a day. Unable to use washing machines in their homes for the past five months, they wait in long lines at coin-operated laundries. For supper, they usually eat sandwiches off paper plates. If they want a proper meal — the kind that requires washing a lot of dishes — they drive to a restaurant.
020408 "Carbon dioxide emissions up. Report: Va. had 9th highest rise"
Carbon dioxide emissions from old, coal-burning power plants in Virginia increased by more than a third from 1995 to 2000, according to a report by clean-air groups.
020416 "In Central Maryland, It's Drill vs. Drought"
030000 Where did it go? Injection? Deliveries? Pressure drops? Global oscillation?