Charley Reference
Essays: What about Charley? ... ShapeShifter
"Hurricane Forecasters Look Beyond the Horizon" LaTimes 041024 to explain Charley's unexplain behavior.

Montage of Charley one week life
August 11 Charley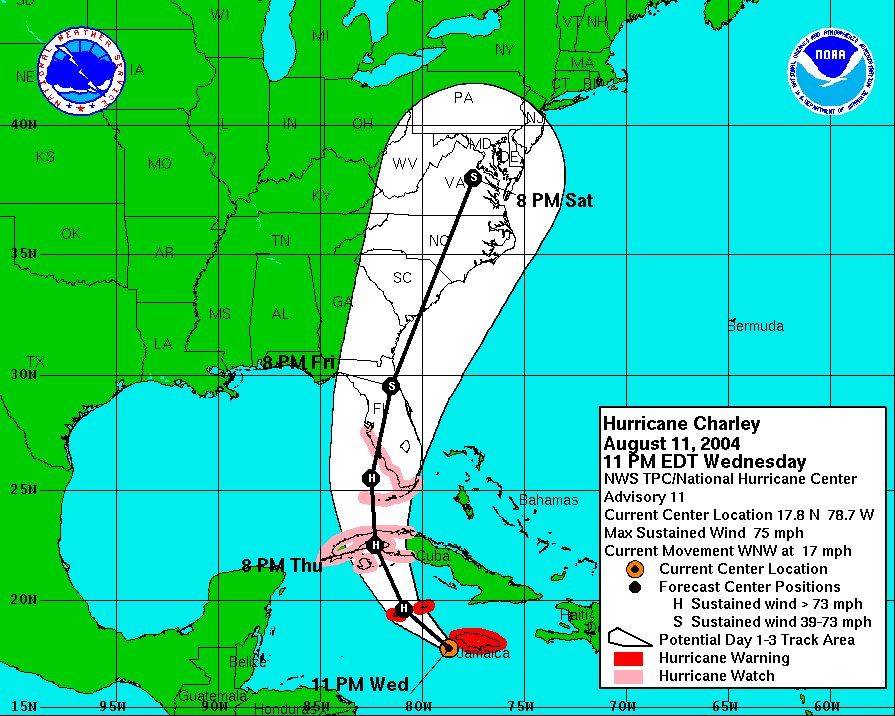 040813 Charley Suddenly increases to NOAA
August 13 Charley Path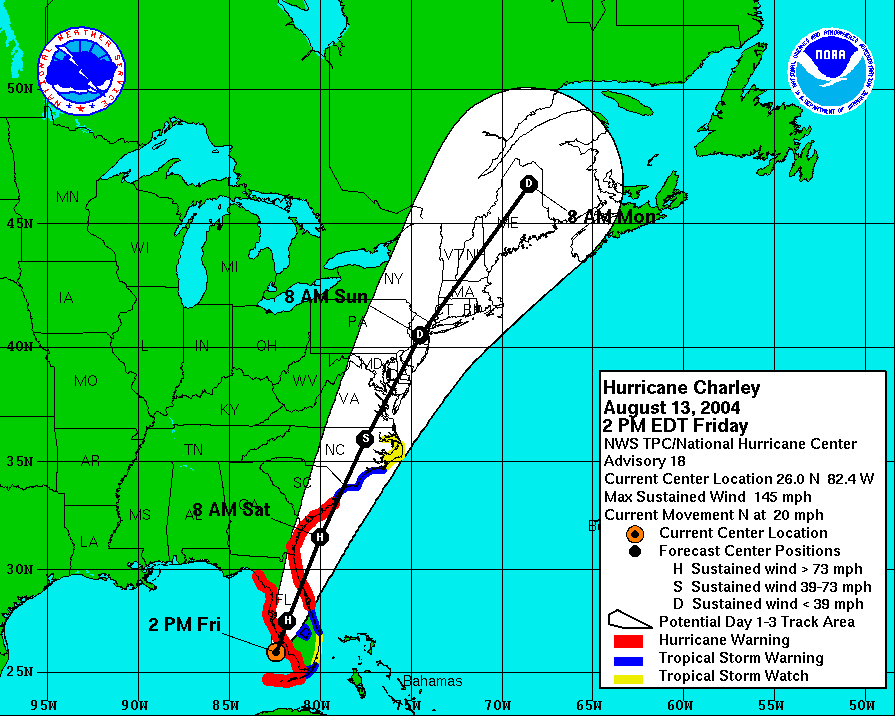 040815 Charley Suddenly Increased strength WashPost

Charleys path with categories in color.
---
Quality Control Tools for Higher iCube ... Frog Leaping.
---
'Links To': Pages linked to by this page: ( (IndexDir ... Refs General ... !RefsRvu ... !Dir.nts) InfoLinks (05-22-2015@07:28) IndexAD1.bas:LinkLstToTable
Link Label on this page
Uploaded
Webpage Title of Link file
(A) No Incomplete Links:
(B) No HTTP:// Links:
(C) Dated Links: Annotated References: HTB
>
#1 LaTimes
RefsBiblio
041024 Hurricane Forecasters Look Beyondthe Horizon041024 La Times
>
#2 WashPost
RefsBiblio
040815 Charley Intensifies Suddenly040815 Wash Post
(D) No Templates:
(E) No Internal Links, Absolute (non-dated):
(F) No Internal Links, Relative (non-dated and ignore lifehour credit links):
(G) Current Directory Links
>
#1 ShapeShifter
071101
Charley, the ShapeShifter
>
#2 2004charley-montage.jpg
auto
NO TITLE
>
#3 2004Charley0811-23.gif
auto
NO TITLE
>
#4 NOAA
071111
HURRICANE CHARLEY SPECIAL DISCUSSION NUMBER 18
>
#5 2004Charley0813-14.gif
auto
NO TITLE
'Links From' Pages linking to this page: ( )No IndexDir ... Refs General ... !RefsRvu ... !Dir.nts) InfoLinks (05-22-2015@07:28) Linkstat:LinksFrom2Table
| | | | |
| --- | --- | --- | --- |
| | Link In From | Uploaded | Webpage Title of Link In file |
| < | #1 DummiesGuide | 071101 | Hurricanes for Dummies |
Annotated References: General



Created by Linkstat.bas\Program
CMD:G: BBS
05-22-2015 @ 07:32:32
(Len=8740)