Thesis: If CO2 binds with water and becomes transparent (stealth), one should see that the satellite images of hurricanes changing from nice circular air masses to hurricanes that look like candy swirls. If you check the satellite images over the years you will see this to be the case (click to enlarge image)
| | | |
| --- | --- | --- |
| 1992 Andrew (donut) | 2001 Allison (cloaked left) | 2002 Gustav (Pacman!) |
Thesis: If a hurricane disrupts the production of GOM oil production and binds the existing elevated CO2 then subsequent hurricanes should not evidence the tattered patterns of CO2 stealth binding. Later hurricanes should look like the pre- or early 1990 donut hurricanes. Note dates: All are approaching New Orleans from the Gulf (same weather satellite).
| | | | |
| --- | --- | --- | --- |
| Arlene June 10 cloaked | Cindy July 5 cloaked | Katrina August 29 Donut | Rita Sept 24 donut |
| | | | |
Thesis: If Gulf hurricanes are cloaked by massive envelopes of CO2 from deep water wells or high density metropolitan areas, e.g., Florida, then cyclonic systems in other parts of the world should not evidence the CO2 cloaking of water. Typhoons in the Pacific are consistently nice donuts.

This population density/cloaking is also shown in the difference based on population density. between the hurricanes that land in

Carolinas (top) Ophelia 2005 donut)
Florida (bottom) Frances 2004 cloaked )

(US lights at night correlates with population and CO2 generation).
The perplexing behavior of last year's Bonnie/Charley is not perplexing if you inject the CO2 matrix into your computer models.
Bonnie suddenly weakens: "BONNIE HAS UNDERGONE SIGNIFICANT STRUCTURAL CHANGES DURING THE PAST 6-9 HR. THE TIGHT INNER CORE THAT HAD BEEN PRESENT FOR THE LAST THREE DAYS COLLAPSED DURING THE AFTERNOON"
"Nobody predicted [Hurricane Charley] would go from Category 2 to Category 4 in four hours"
See "What about Charley?" as well as "Bonnie: The Smoking Bite"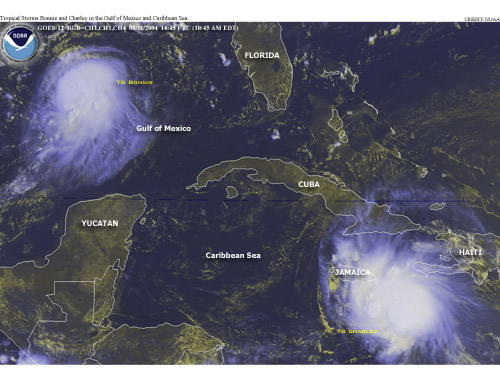 Thesis: A hurricanes shape progressing through Hurricane Alley should show shaping at approaches or passes major sources of CO2 blastomas. The essay "ShapeShifter" details better the following cloaking/saturation of Charley.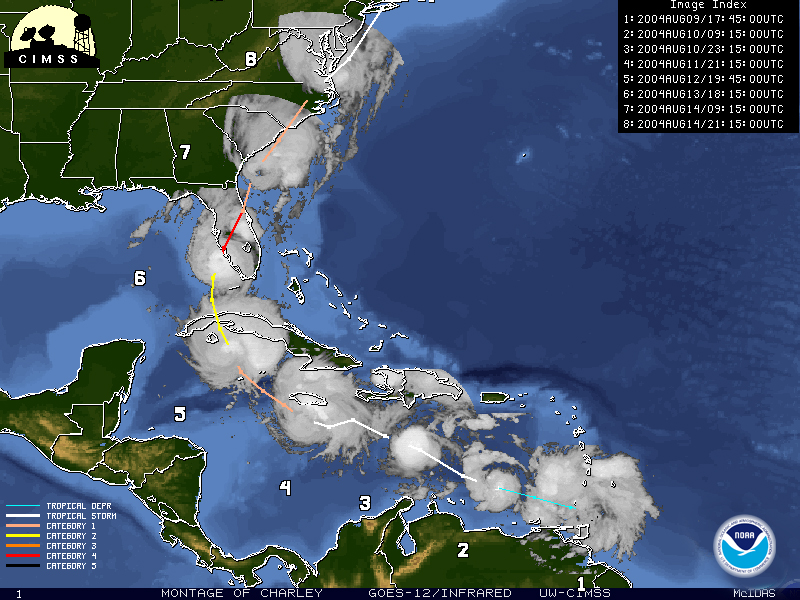 ---
Quality Control Tools for Higher iCube ... Frog Leaping.
---
'Links To': Pages linked to by this page: ( (IndexDir ... Refs General ... !RefsRvu ... !Dir.nts) InfoLinks (05-22-2015@07:28) IndexAD1.bas:LinkLstToTable

'Links From' Pages linking to this page: ( )No IndexDir ... Refs General ... !RefsRvu ... !Dir.nts) InfoLinks (05-22-2015@07:28) Linkstat:LinksFrom2Table
| | | | |
| --- | --- | --- | --- |
| | Link In From | Uploaded | Webpage Title of Link In file |
| < | #1 DummiesGuide | 071101 | Hurricanes for Dummies |
Annotated References: Images ... PostersAnnual ... General ... Quadrants ... Typhoons



Created by Linkstat.bas\Program
CMD:G: BBS
05-22-2015 @ 07:32:32
(Len=13k)